Holiday shopping is hard enough without figuring out what to buy for someone who (probably!) already has it all: your pets.
So to help you out this holiday season, we asked The Dodo's pet parents for the products they couldn't live without this year — from unicorn dog pajamas to the most obsession-inducing catnip toys.
Every item is tried and tested on our very own dogs and cats (and bunnies and guinea pigs), so you know you're getting the best of the best. And hopefully these picks will make your own pets' holidays a little more magical, too.
For The Doggy Trendsetter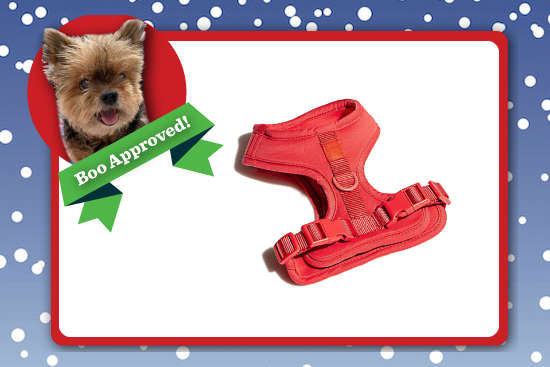 Credit:
Wild One / Shutterstock
"Tiny dogs love cozy harnesses, and I've been searching for the perfect one for Boo, my 13-year-old Yorkshire terrier. I love the simple design of this cushioned harness from Wild One. The pop of red color adds a little personality while keeping things sophisticated and clean. Plus, there's a matching leash and poop bag carrier, too!" –Marti
Buy it here for $48.00
For The Dramatic Kitty

Credit:
Chewy / Shutterstock
"I love Yeowww! catnip toys for my cat, Admiral Akbar. They're basically indestructible, even in the claws of a slightly sociopathic cat. Most catnip toys usually lose their sheen after just a few weeks, but my cat continues to play with his Yeowww! banana, apple and rainbow years later. He bats them around, scratches them, kicks them, belly flops on them — and in the rare moments when he's feeling vulnerable, licks and cuddles with them, too." –YuJung
Buy the banana here for $5.99
For The Prettiest Pittie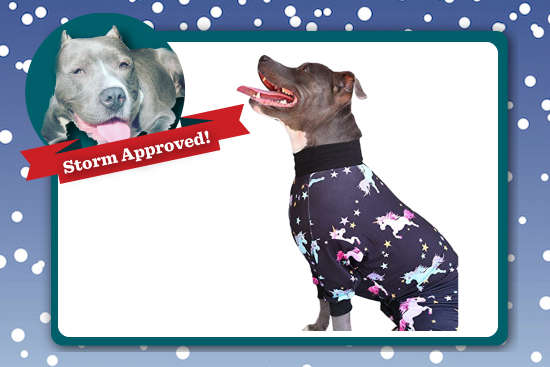 Credit:
Amazon / Shutterstock
"What's cuter than a low-rider pit bull in printed pajamas? Whenever we take these Tooth & Honey PJs out, Storm gets sooo excited because she KNOWS whoever is around will fawn all over her! They fit her little hippo body perfectly and she is SO comfortable lounging around in them. We have the duck ones, but there are enough patterns to fit any pup's style!" –Keren
Buy the unicorn print here for $42.00+ (More color options here)
For The Dog Who Dreams Big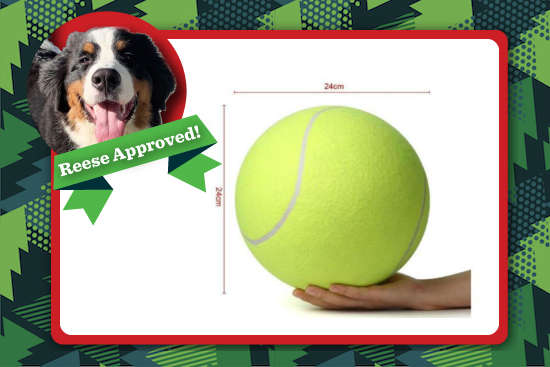 Credit:
Amazon / Shutterstock
"Reese has been truly obsessed with tennis balls since he was a puppy. He hides them all over my house, and can't go 10 minutes without playing with one. So this year, I surprised him with a GIANT tennis ball as the ultimate gift. If he could talk, he definitely would've said it was the best day of his life. This is the perfect gift for any tennis ball-loving dog." –Maggie
Buy it here for $12.25
For The Food Fiend Bunny

Credit:
Chewy / Shutterstock
"Rupert is a total food monster. Which means every time we eat, he's climbing all up in our laps trying to steal a bite. We keep these Oxbow vitamin treats near the table to distract him (and so he doesn't bite our fingers off when we say no people food)! He thinks they're so tasty that he doesn't even realize we subbed them for that off-limits tortilla chip he had his eyes on. They're great for guinea pigs, hamsters, gerbils and chinchillas, too." -Ameena
Buy them here for $6.79
For The Cat Who Lives Large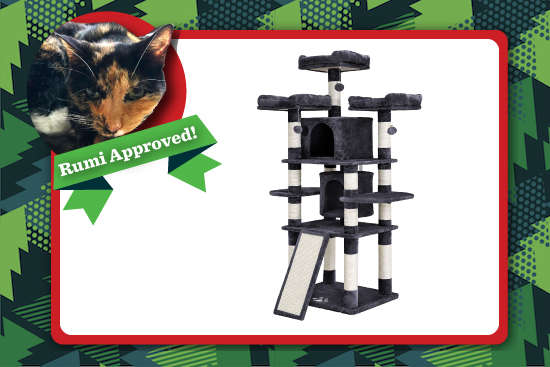 Credit:
Amazon / Shutterstock
"What can I say? Rumi was born to climb! When I met her at the shelter for the very first time, she squirmed in my arms because she was THAT antsy to hop onto one of the ceiling rafters. She's an older lady who likes to stay active, so the Feandrea Multi-Level Cat Tree is the perfect playground/kingdom of her dreams, and who am I to disobey the queen's wishes? It's a no-brainer." –Zainab
Buy it here for $129.99
For The Puppy-At-Heart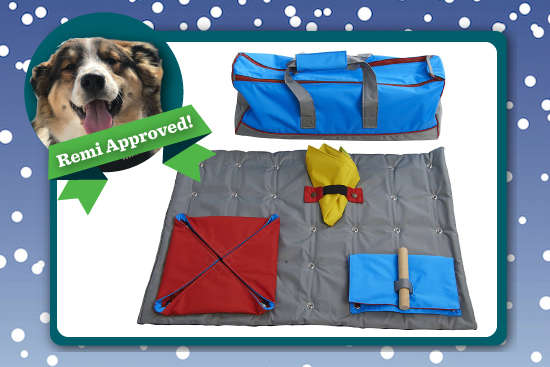 Credit:
Amazon / Shutterstock
"Remi is a very curious puppy. She loves exploring the world with her mouth and trying to figure out how everything works! We knew the perfect gift for her would be this activity mat. It has several attachment options that we can mix and match and is made out of soft material so it's easy on puppy teeth. She instantly fell in love with it and now we bring it everywhere!" –Taylor
Buy it here for $44.99
For The Hungry, Hungry Hippo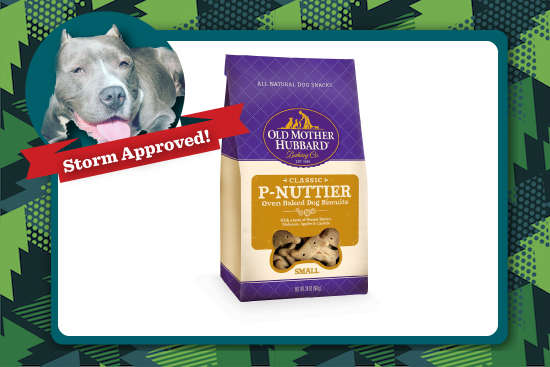 Credit:
Chewy / Shutterstock
"These simple peanut butter cookies are Storm's everyday favorite. They're the perfect size for a little treat after doing her business, and they're small enough that you don't feel too guilty for giving her several when she's a really good girl. They don't have a strong smell either which is an added bonus!" –Keren
Buy them here for $6.99
For The Chompy Guinea Pig

Credit:
Chewy / Shutterstock
"My 3-year-old guinea pig Franklin loves to chew on veggies and anything else he can get his hands on. This fun table has lots of colorful, dangling toys to entertain him — but he loves the chewable parts most of all." –Marti
Buy it here for $19.99
For The Wannabe Hound Dog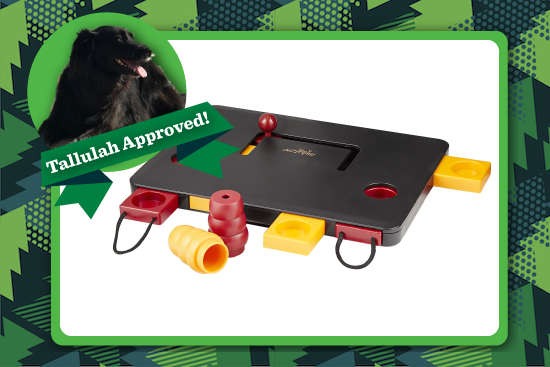 Credit:
Chewy / Shutterstock
"Tallulah is very scent-oriented so we're constantly looking for new and fun ways for her to use her nose. We have tried so many different dog puzzles and this one is by far Tallulah's favorite! Whenever she's feeling a little bored, she'll walk over to her puzzle and give us the "please fill it with treats" look. It has a dog-first design that makes it easy for pups like Tallulah to pull drawers open with their mouths, nudge levers with their noses, and paw open various compartments to get to the treats! If you're looking for a great dog puzzle, this is the one!" –Taylor
Buy it here for $18.50
For The Adventure Pup

Credit:
Amazon / Shutterstock
"This is the perfect dog puff coat. Sasha is a baby about going out in the cold, and this is the only jacket that keeps her warm enough to stay out and play! She's a pittie so her tummy is bare, and her Powder Hound coat gives her full coverage. It's also extremely adorable." –Katy
Buy it here for $89.95
For The Picky Eater Rabbit

Credit:
Amazon / Shutterstock
"Rupert isn't picky about food — except hay, which is what he should be eating! But both our rabbits go absolutely crazy for Small Pet Select hay. And I love that it comes fresh from the farm, so it's always green and smells like summer and deliciousness. This sampler includes a taste of all the different 'flavors' — so it's perfect for figuring out what your rabbit (or guinea pig/chinchilla) likes, or as a fun holiday treat!" –Ameena
Buy it here for $39.99
For The Hard-To-Please Cat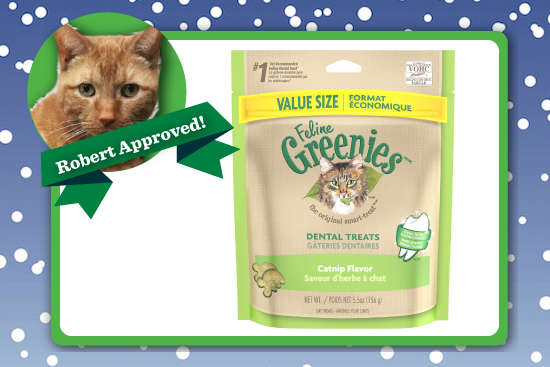 Credit:
Chewy / Shutterstock
"Robert doesn't show pleasure in many things in life, but he's THRILLED to hear his Greenies hitting his bowl after dinner each night. He's a senior cat so dental care is extra important. His vet praises his white teeth!" –Katy
Buy them here for $4.99+
For The Pampered Pup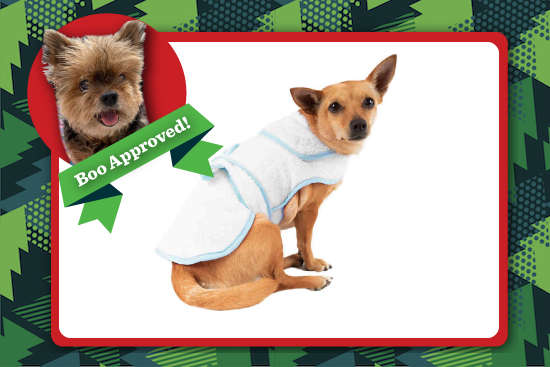 Credit:
Bed Bath & Beyond / Shutterstock
"My dog Boo has a post-bath routine: She runs out of the bathroom, does some zoomies, and then jumps right on my bed. She usually plops down right where I sleep, leaving the pillow damp. This terry cloth robe is perfect for her to wear right after she's had a good scrub. It's not only cute, but it helps her dry faster — and keeps the bed drier, too." –Marti
Buy it here for $48.99
Looking for a gift for the animal-loving person in your life? Don't forget to check out the Dodo Shop.